Publication date 21st December 2021

Kaleidoscope

by Diane Eklund-Āboliņš.

Any life is made up of innumerable patterns that are constantly intertwining and changing, and because of this no one can know anyone's story completely. Kaleidoscope collects together some of these patterns in the life of Bridget O'Connor, who is grappling with the moral implications of war and her family's Irish past. She is also intent on finding her own female identity in a male–dominated society, but when a terrible situation makes her question whether killing may sometimes be ethical, her world threatens to disintegrate.








Published 16th May 2019

The Waiting Room

by Diane Eklund-Āboliņš.

What is beyond the waiting room? Some people believe that they know, but are they right?
Is there one answer, or are there many answers? In a society where the individual is no longer of any importance, what is beyond the waiting room may be completely benign, or it may be something else altogether.








Released in 2016

An Ambiguous Tragedy

by Diane Eklund-Āboliņš.

What we perceive around us as being real, is, on the one hand, essentially real for us in that moment of perception, and yet, at the same time, it can be completely unreal...
Reality, as it is and as we believe it to be, is the red thread running through An Ambiguous Tragedy. People disappear without trace, leaving behind them friends and relatives desperate for answers. Is there a connection between the disappearances, or are they all unrelated? Is there a line between what is real and what we imagine to be real?



Art and the Monad

by Keith Lincoln Cook.

In Art and the Monad, Keith Lincoln Cook, teacher, artist, sculptor and photographer takes a fresh look at the mind and the emotions and the part they both play, especially in regards to art appreciation. We are constantly being bombarded with messages via our senses and yet many of these messages lodge in our intellect without inciting any kind of emotional response. To truly appreciate art, we need to be able to bypass the intellect with its demand for explanations and its need to examine everything sensed. We need to open the passageways between our senses and our emotions.









Released in 2015

45 Days: Walking the Bibbulmun Track

by Diane Eklund-Āboliņš.

Whether you are a walker, a hiker, a nature lover or an armchair traveller, 45 Days: Walking the Bibbulmun Track will engage and inspire you. The book weaves together the drama, the humour, the elation and the challenges of walking one thousand kilometres in all kinds of weather and through all kinds of terrain.










Released in 2014

Room Nineteen

by Diane Eklund-Āboliņš.

Tilda finds herself in a maze of corridors and rooms; there are no windows and there are no exits. She cannot remember how she arrived in the maze, and she does not know if she is in her own past or future. Then she meets Oswald, who is clinging to the belief that there has to be a way out...
A psychological thriller that questions the very way we relate to time.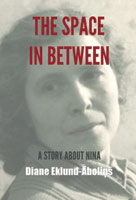 Released in 2012
The Space in Between: A Story about Nina
by Australian author Diane Eklund-Āboliņš.

Set against a background of war and exile, this true story will take you on an unforgettable journey.
Where does the line go between good and bad? Are people fundamentally good or bad? What makes one action good and another action bad?


---

Need a helping hand?
We use PayPal to ensure that your order and payment is processed securely. Please don't hesitate to contact us if you need assistance or if you would like information about the progress of your order.

We are here to help.

---
AoE Publishing
| | |
| --- | --- |
| Connecting people and ideas. | |
---
Spread the word
---
Reader comments
In The Waiting Room I could see parallels to some of the dystopian novels I have read, and I hope that it is not in such a world we are going to end up. But, when I look around me, I wonder if we are not almost there, and hopefully this novel will make us wake up before it is too late.
Andris

I'd like to thank you for writing the book (45 Days: Walking the Bibbulmun Track) - it is the perfect preparation for me to "be with someone" on the track and I enjoyed the reading very much. I found a lot of helpful information in your book and it felt sometimes like I'd know you a little bit, while I was reading, because I'm a vegetarian, too, and I'm also afraid of heights.
Astrid

I loved Nina's journey. Congratulations. I could not put it down for 3 days.
Kerrie

I have just finished reading your excellent book, you have done an outstanding job. Once I started I could not put it down. I now know the real story about Nikolina's life which goes beyond belief – well done.
Robert
---