Illustrated Tarot Cards
In November 2013, we added Nine Lives Tarot to our list of publications. You can purchase this stunning deck directly from the artist by following the link below:



Nine Lives Tarot

Illustrated by Annette Abolins

The cards in this beautiful deck are printed on smooth 300gsm card and delivered in a title box for protection. Includes a 24 page booklet (LWB), with short descriptive meanings for each card; a handy guide to getting to know your cards.

Artist: Annette Abolins
ISBN: 978-0-9873473-1-2 (Published Nov. 2013)
Tarot deck: 78 cards: 22 Major Arcana & 56 Minor Arcana
Card size: 70mm X 121mm, rounded corners
Price: $39.90 AUD (+ postage and handling)



---
The story behind the cards
Enter the world of Nine Lives Tarot in this new deck illustrated by Annette Abolins.
Whether you are an experienced Tarot reader or a novice; the accessible imagery will invite you to interpret and interact with the cards. Inspired by ancient Tarot wisdom and based on the classic format of the Tarot; Nine Lives is a reinterpretation of timeless pictures portrayed from the artist's perspective.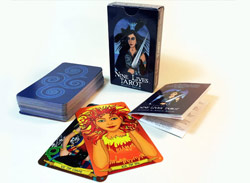 Visit Nine Lives Tarot
This website, created and maintained by the artist, provides information and inspiration for using and interpreting the cards:
Tarot cards and their meanings
The story behind creating the cards
Inspiration for reading and using the cards
Blog with regular articles about tarot & art.
---